Do you hear the whispers of the Sahara calling your name? Imagine venturing deep into the heart of Morocco's rugged countryside, leaving behind the bustling streets of Marrakech. With a private pickup from the Red City, Click Excursions invites you on a thrilling 2 Days Desert Tour from Marrakech to Zagora that promises both adventure and comfort.
Day 1: Marrakech – Kasbah Ait Ben Hadou – Agdz – Zagora Desert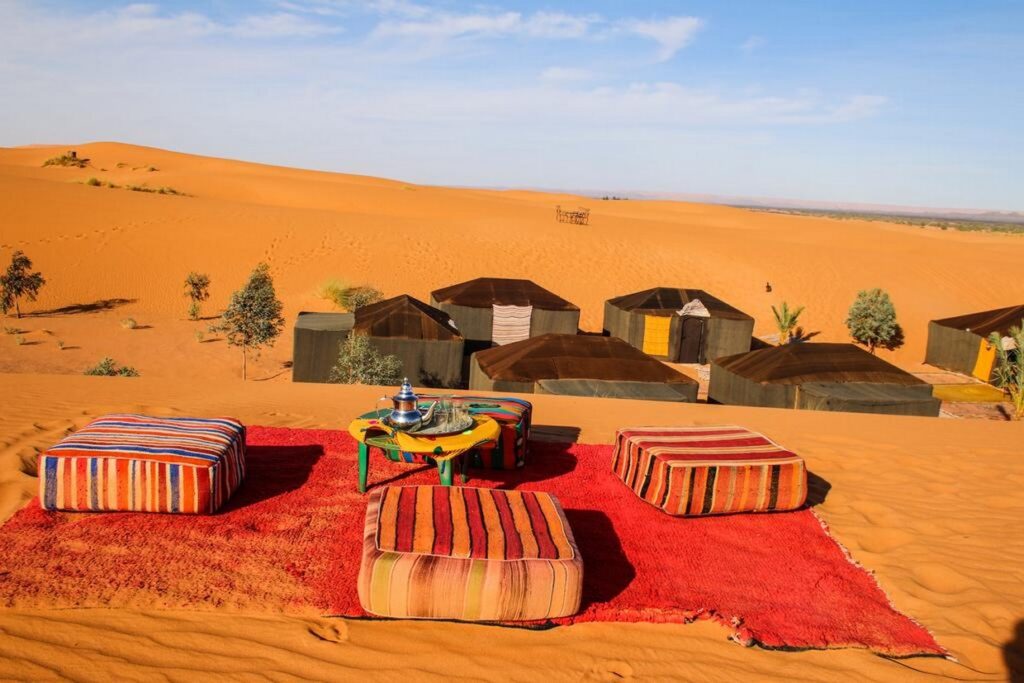 As the sun begins to cast its first rays over Marrakech, your shared desert adventure, the 2 days tour from Marrakech to Zagora, begins. At around 07:30 AM, you join a group of fellow explorers, and together, you set out on an unforgettable journey. The road leads you through the mesmerizing Tizi Ntichka pass, perched at a breathtaking altitude of 2260 meters. Along the way, you'll pass charming adobe Berber villages and witness the locals skillfully herding their goats. Be sure to seize the opportunity to pause for photographs, stretch your legs, or savor a cup of traditional Moroccan coffee. The adventure continues as you make your way to the Zagora Desert Camp, where a magical camping experience awaits you.
Your first significant stop is the legendary Kasbah Ait Ben Hadou, a UNESCO World Heritage village that has starred in numerous cinematic masterpieces. Its iconic Kasbah, with its earthen architecture, has been featured in biblical epics and served as the backdrop for countless commercial and modeling photoshoots. Take your time to explore this living piece of history, and if you wish to continue your journey into the Zagora Desert, join a guided tour for a deeper understanding of its rich heritage (a small fee applies)
Lunchtime arrives, and you'll have an hour of leisure to enjoy your meal.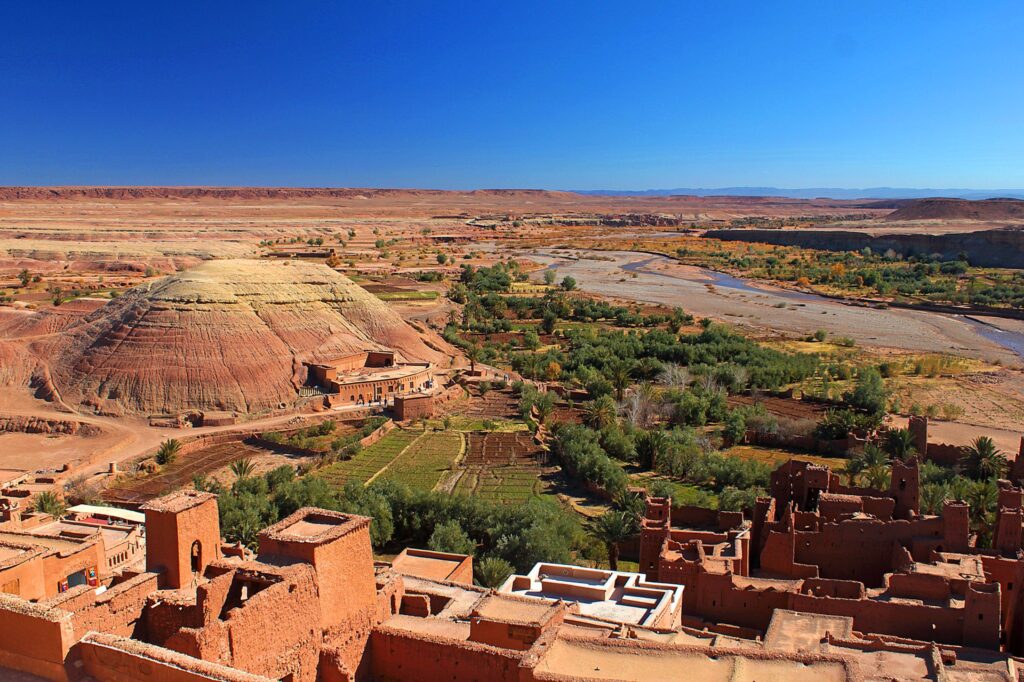 Continuing your journey, you pass through Ouarzazate and venture into the northeastern reaches of the Anti Atlas Mountains, arriving in the oasis town of Agdz. Here, you'll have a brief stop in the village center before embarking on a visually stunning drive along the Draa Valley. This verdant valley is adorned with fortified Kasbahs and oases, punctuated by hundreds of thousands of swaying date palm trees. Draa Valley proudly hosts the largest palm tree plantation in all of Morocco.
As the afternoon sun begins to descend, you reach Zagora Desert. Here, the real adventure begins as you meet your camel caravan. A camel trekking experience commences, and for about an hour, you'll ride these majestic creatures. While there are not many towering sand dunes in Zagora, the landscape offers a unique and enchanting beauty of its own.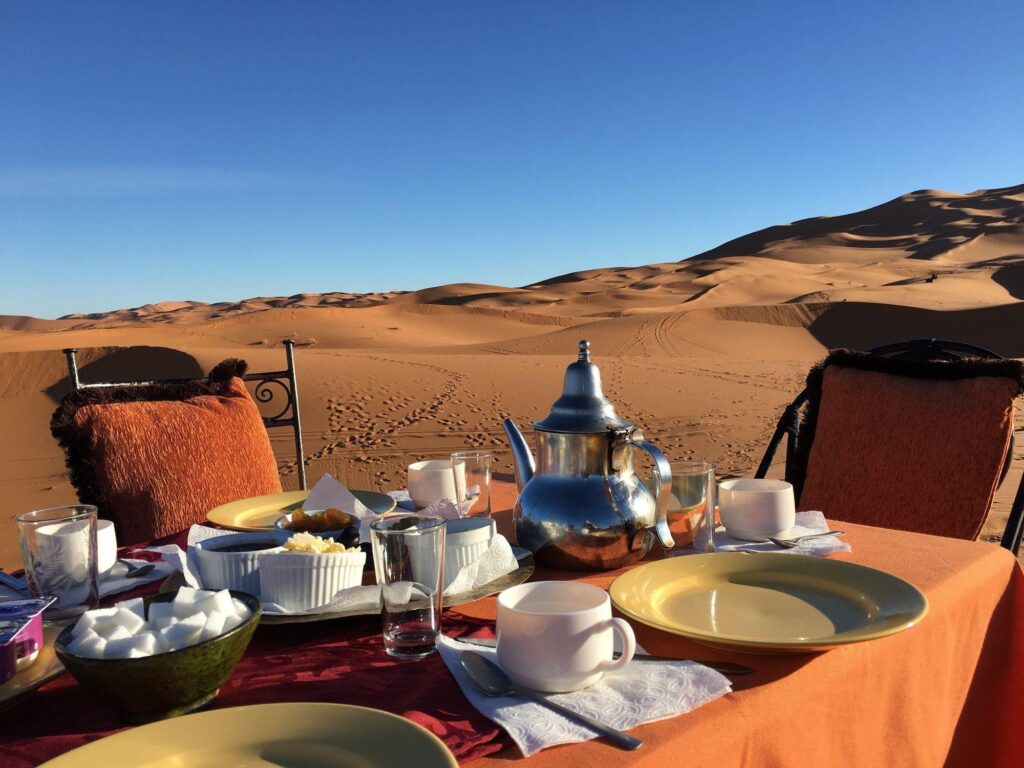 Just before nightfall, you'll arrive at your Berber desert camp, Zagora Desert Camp, nestled amidst the tranquil expanse of the area. The evening unfolds with a sumptuous Moroccan dinner served under the starlit canopy of the desert sky. After dinner, prepare for an entrancing drum performance and local music by the campfire. Desert nomad hosts will entertain you with rhythmic drumming and traditional folk songs, creating an unforgettable Zagora Desert Camp ambiance that lasts well into the night. Gaze up at the desert stars, learning about their constellations, or simply lose yourself in the tranquil desert silence
Day 2: Zagora Desert – Ouarzazate – Atlas Mountains – Marrakech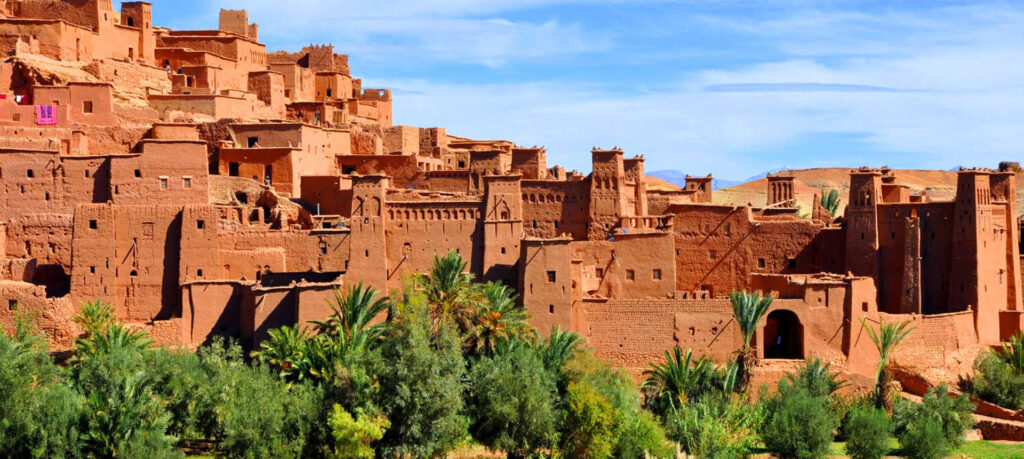 As dawn breaks, your camp hosts will gently awaken you to witness the breathtaking desert sunrise. After a hearty breakfast, it's time to mount your trusty camels once again and make your way back to the main road.
From there, you embark on the journey back to Ouarzazate. A stop at a local café for lunch is on the agenda, followed by an optional visit to Taourirt Kasbah (entrance fees apply).
In the early afternoon, you begin your return voyage to Marrakech, traversing the majestic High Atlas Mountains.
Your shared 2 Days Desert Trip from Marrakech to Zagora concludes in the late evening, around 8:00 PM, the desert whispers its farewell, leaving you with treasured memories of this extraordinary adventure. Until next time, may the Sahara's allure continue to beckon you.