Start on a journey where adventure meets tranquility, and Marrakech reveals its splendor from a unique vantage point. Join us for an unforgettable hot air balloon experience, soaring gracefully above the iconic landscapes of Marrakech.
Soaring Over Marrakech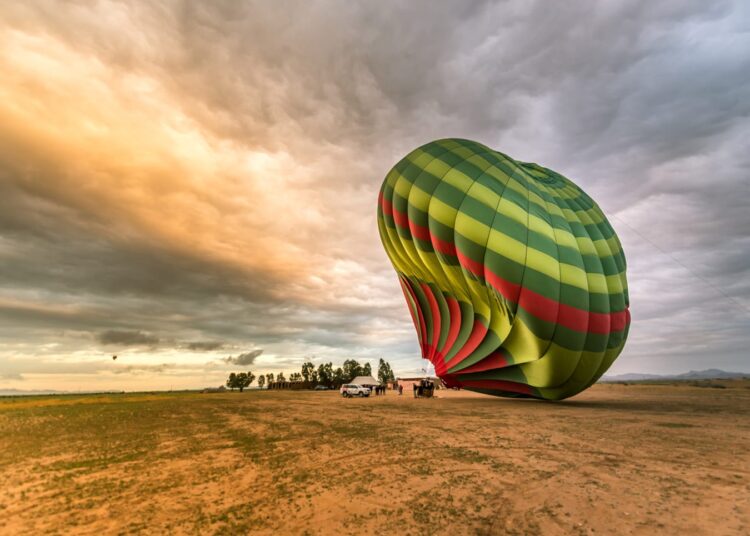 As the sun begins to cast its golden glow over the city, it's your chance to experience hot air balloon in Marrakech. The adventure begins with the inflation of the balloon, a mesmerizing dance of fabric and flame. Soon, you find yourself gently rising into the sky.
The sensation of floating weightlessly, suspended in the morning air, adds a touch of magic to the experience. Marrakech, waking up beneath you, transforms into a mosaic of colors and textures. The hot air balloon becomes your chariot, carrying you on a journey of peace and wonder as the city unfolds below.
Landmarks from Above: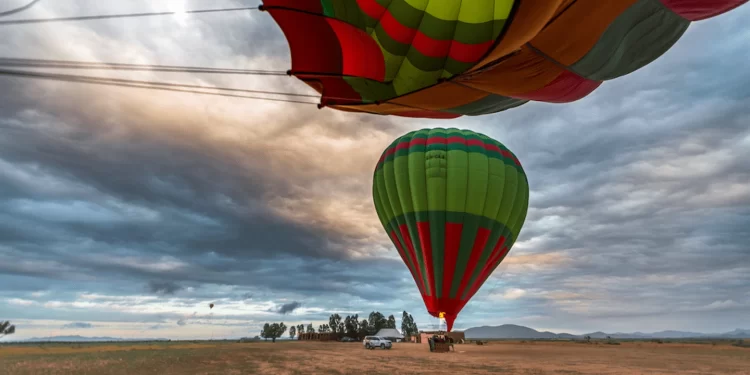 From your elevated perch, the landmarks of Marrakech take on new dimensions. The Koutoubia Mosque, a masterpiece of Islamic architecture, commands attention with its towering minaret. The intricacies of the Bahia Palace gardens become a living tapestry, and the medina reveals its labyrinthine layout from above.
Jemaa el-Fnaa square, a vibrant hub during the day, becomes a bustling mosaic of activity, even from the serene heights of the hot air balloon. As the sun climbs higher, the city awakens, and Marrakech's landmarks, bathed in morning light, create a visual symphony beneath you.
Flight Logistics: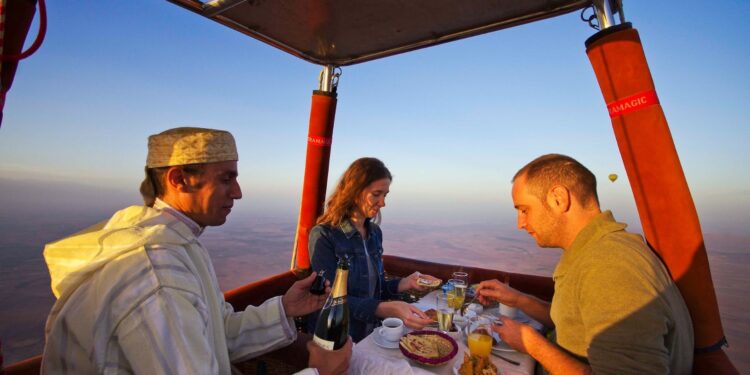 This adventure is a carefully orchestrated ballet of logistics. Your journey begins with a pre-flight briefing, ensuring you're comfortable and familiar with the experience. As the balloon ascends, experienced pilots navigate the skies, providing insights into the landmarks and sharing the rich history of Marrakech.
The duration of the activity allows ample time to savor the views and capture moments from above. The descent, a gentle return to terra firma, is as smooth as the flight itself. Ground logistics seamlessly conclude the experience, leaving you with memories of a morning spent floating above one of Morocco's most enchanting cities.
Experiencing hot air balloon in Marrakech makes you live a journey over the ordinary. It's not just a flight; it's a ballet of colors, a panorama of landmarks, and a tranquil adventure that lingers in the soul. As you descend from the skies, you carry with you the magic of Marrakech, seen from the peaceful heights of a hot air balloon.