Venture beyond the bustling city of Marrakech and immerse yourself in the stark beauty of the Agafay Desert. Click Excursions Morocco invites you to explore this unique landscape, offering a range of thrilling activities and luxurious accommodations. Experience the captivating charm of the desert, with the stunning backdrop of the Atlas Mountains, as you embark on an unforgettable adventure.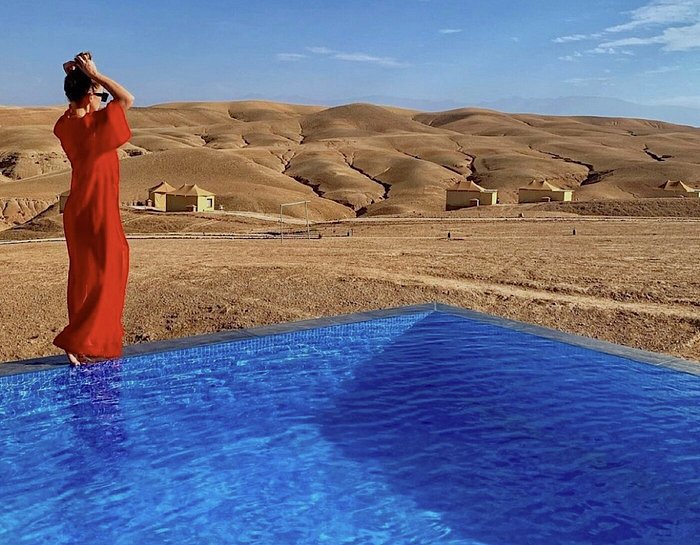 A Stone Desert Oasis
Located just 30 to 40 kilometers southwest of Marrakech, the Agafay Desert is a hidden gem that provides a refreshing contrast to the city's vibrant atmosphere. Unlike the Sahara's iconic sandy dunes, Agafay features a rugged landscape of stone and rock formations, along with sparse vegetation. This otherworldly terrain creates an enchanting atmosphere that will leave you in awe.
Adventures Await
At Click Excursions Morocco, we offer a variety of activities to help you fully experience the magic of the Agafay Desert. Some of our most popular options include:
Camel rides: Climb aboard one of these majestic animals and traverse the desert in style, just as the nomads have done for centuries.
Quad biking: For thrill-seekers, zoom across the rocky terrain on a quad bike, taking in the breathtaking scenery as you race through the desert.
Hiking: Explore the desert on foot, with guided hikes that showcase the natural beauty and diverse wildlife of the region.
Stargazing: Witness the dazzling display of stars in the night sky, far away from the city's light pollution, for an unforgettable celestial experience.
Luxurious Accommodations
After a day of adventure, unwind in one of our luxurious desert camps or traditional bivouacs. Enjoy the comforts of modern amenities, while experiencing the authentic charm of Moroccan hospitality. Savor delicious local cuisine, relax by the campfire, and be entertained by traditional Berber music and dance.
A Picturesque Backdrop
The Agafay Desert's beauty is further enhanced by the dramatic Atlas Mountains, which serve as a striking backdrop to this remarkable landscape. Capture stunning photographs, or simply soak in the serene atmosphere, as you create memories that will last a lifetime.
Experience the enchanting Agafay Desert with Click Excursions Morocco, and let us help you create a once-in-a-lifetime adventure. Escape the hustle and bustle of Marrakech, and discover the natural wonders that lie just beyond the city's borders.
Visit our website to book your Agafay Desert excursion today!
https://www.clickexcursions.co.uk/